Accommodation, Campings dans l'Aude
Add to my travel notebook
Register your touristic spot dans l'Aude it's free (in French)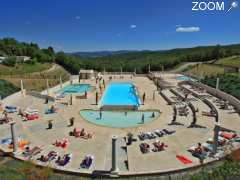 TVORG-11505
Update informations
Disponibilités
Mr Leclerc
Arnauteille
11250 Montclar (Aude)
Phone : 04 68 26 84 53
- Fax : 04 68 26 91 10
http://www.camping-arnauteille.com
Far away from all noise and in the cleanest of air, you will stay on a vast estate of 115ha.
Here, we invite you for a uniquely unforgettable break on a site dedicated to freedom.
The Greco-Roman pool complex offers all the pleasures of water: a 25m swimming pool, lazy river pool, large spa pool and a paddling pool for the children….all surrounded by a 3000m² panoramic solarium that invitess you to bask in the sun and relax after a superb trek on foot or on horseback through our lovely countryside.
Children's club, pony riding for the youngest or horse-riding for the others, multi sport games court, plus discovery of the countryside…the children are also entertained while the adults meet wine growers or attend an open-air concert.

Register your touristic spot dans l'Aude it's free (in French)