Accommodation, Hotels dans le Gard
Hotels

Remarkable houses where get involved luxury and refinement, in the inns of charm where the frame is authentic and warm, you will find the accommodation about which you dream for a perfect stay. That they are situated in city or more in countryside, hotels ally comfort, well-being and sense of the reception.
Register your touristic spot dans le Gard it's free (in French)
Logis de France Hotel Orly
10 rue d'avejan
30100 Alès (Gard)
Orly Hotel is located right in the heart of Alès town centre and within very short walking distance from all shops, restaurants, cinemas, theatre, museums, etc…
Low season of 68€ to 135€

Average season of 68€ to 135€

High season of 82€ to 152€

**Tourisme-Petit déjeuné**
Jacques galliot
440 route de Nîmes
30220 Aigues-Mortes (Gard)
Phone : + 33 (0)4 66 80 50 04
- Fax : + 33 (0)4 66 80 50 32
On the shores of the Mediterranean sea, in the heart of the " little " Camargue, nestling at the feet of the medieval fortress town of Aigues Mortes, you will find the Hotel Canal. Open all year ...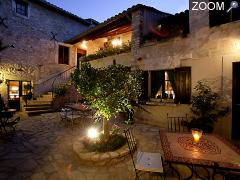 BRICAUD
PLACE DE L'ARBRE
30126 Saint-Laurent-des-Arbres (Gard)
Phone : 04 66 50 14 14
- Fax : 04 66 50 46 30
Located between Uzès Avignon and orange in an authentic medieval village surrouned by Tavel and Lirac vineyards, Le Saint Laurent offers to you warmth and welcoming hearth. Family heirlooms and ...
Register your touristic spot dans le Gard it's free (in French)